Josie
ASDR Toy Australian Shepherd
DOB 05-02-2014
Double Blue Eyes
Blue Merle
13 inches

Sire: Tiny H Toys Poncho Farm Toy
Black Tri

Dam: Sweetea Farm Toy
Red Merle

Josie was my first female Toy Australian Shepherd. She is a blue merle with stunning blue eyes. Josie is so eager to please and make me happy. I never have to worry about where she is because she is always by my side. She always guards me, I wonder sometimes if she ever sleeps. Josie has produced some beautiful puppies of all colors at Lil Dawg Shepherds. She is a very loving and attentive mother when she has puppies. When she doesn't have puppies she is attentive and loving to us. Josie is the Royal Matriarch of LDS and part of the foundation of our breeding program. Josie is red factored, high drive, and with strong herding instinct. She is a classic Toy Aussie.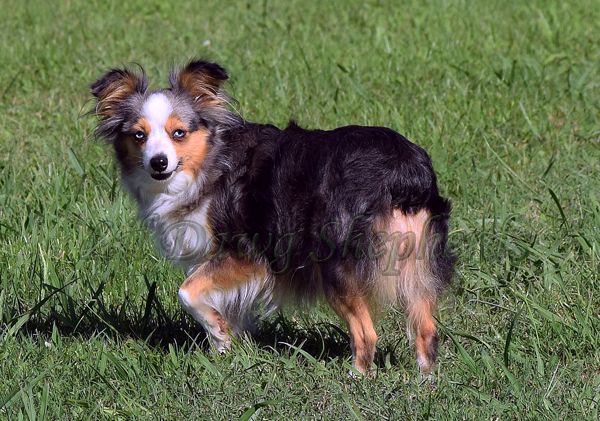 ---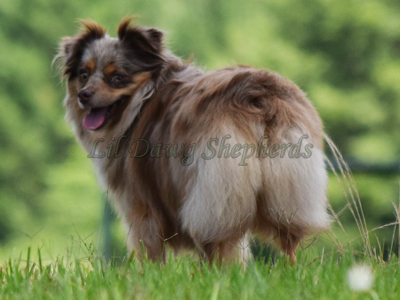 Lil Dawg's Benelli M4
ASDR Toy Australian Shepherd
DOB 12-27-2016
Red Merle
14 inches
*Full panel clear through Paw Prints Genetics*
Sire: Levi Wears Blue Jeans
Red Merle
Dam: Izzie Ceyanna Willow
Black Tri

Benelli is our protector here at Lil Dawg Shepherds. She is a cross of a Toy Aussie and Mini Aussie, Benelli is the perfect scaled-down version of the Standard Australian Shepherd She thinks she is as big and fierce as a German Shepherd. She helps patrol the yard and alerts us of any possible danger. Benelli has the most beautiful, thick, luxurious coat, I don't remember her ever going through the "puppy uglies." Her sire had 2 blue eyes and although Benelli has only a blue-chip in her left eye she has produced double blue-eyed puppies.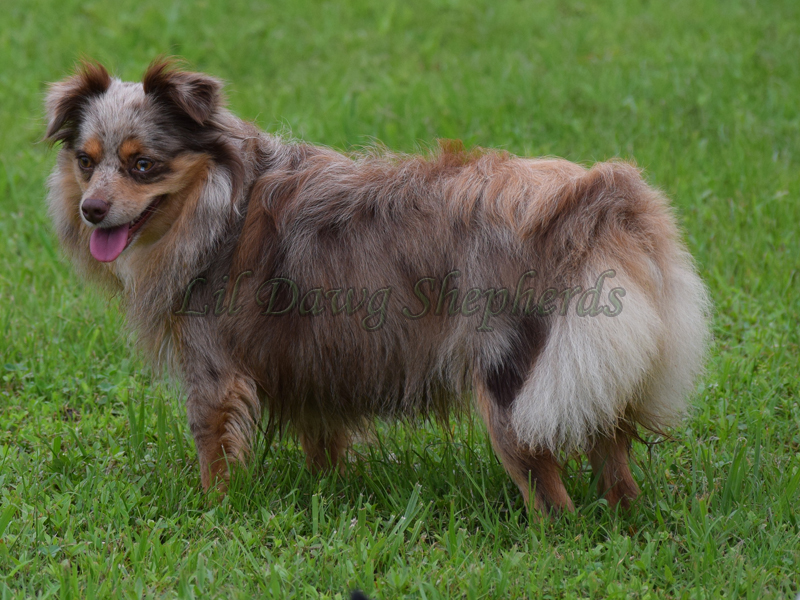 ---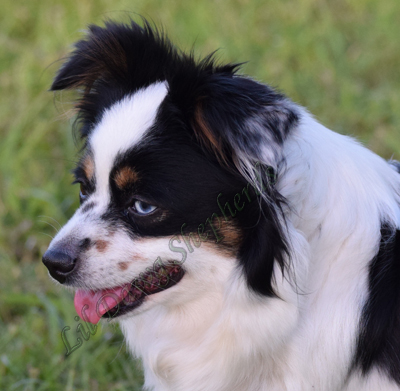 LDS Sysco's Lil Ducky
ASDR Toy Australian Shepherd
DOB 11-14-2015
One Blue Eye, One Blue Flecked
12 3/4 inches

Ducky is a low stress, go with the flow kind of girl. She is a Toy Australian Shepherd with a high drive and a great off button and has good bone. She is fast as a rabbit and has a strong herding instinct. I think scent work would be her thing, she always has her nose to the ground. If she catches a scent she can follow it to the source.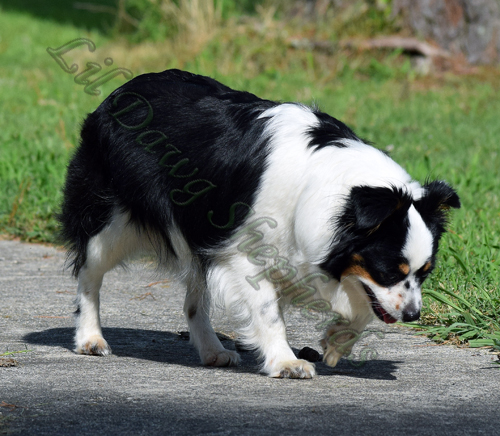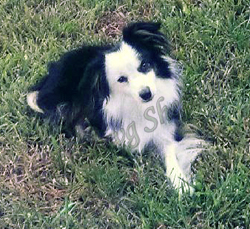 Sire: Sibley's Sysco
Black Tri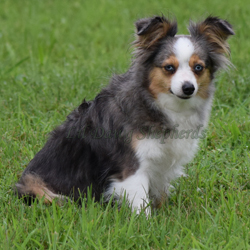 Dam: Josie
Blue Merle
---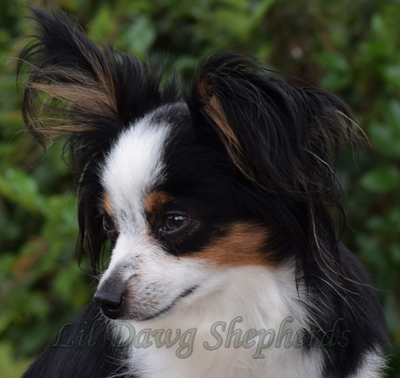 LDS Sysco's Memory
ASDR Toy Australian Shepherd
DOB 11-14-2015
Black Tri
11 inches

Sire: Sibley's Sysco
Black Tri

Dam: Josie
Blue Merle

Oh, my Lil Memory! Having her is like having her sire "Sysco" back at Lil Dawg Shepherds. She is my heart and spoiled rotten. She has her seat reserved in every vehicle we own including the tractor and four-wheelers. She has an outgoing personality and is a welcome visitor to the tractor supply and Lowes. Memory is high drive and herds the ducks and rabbits constantly. She doesn't seem too interested in the horses. Memory is my "ride or die" and I carry her 6.5 lb. Toy Aussie self everywhere. You will not see many puppies from her as I only intend to breed her a couple more times at best.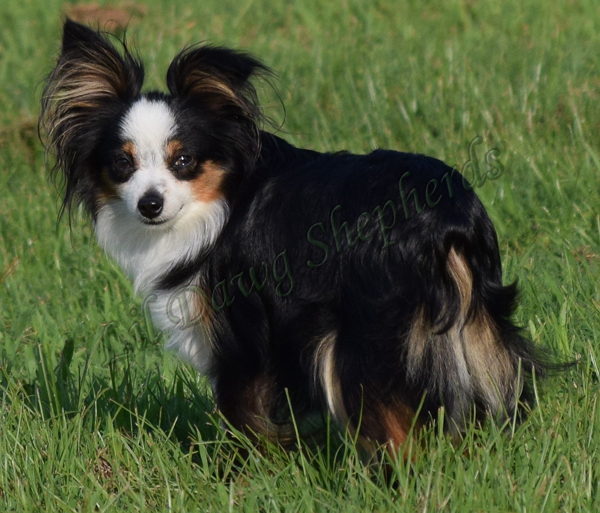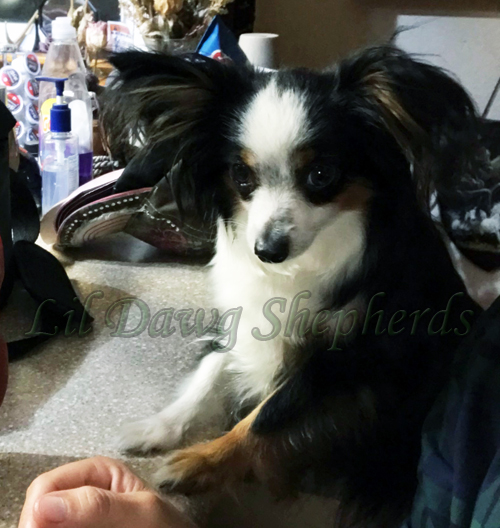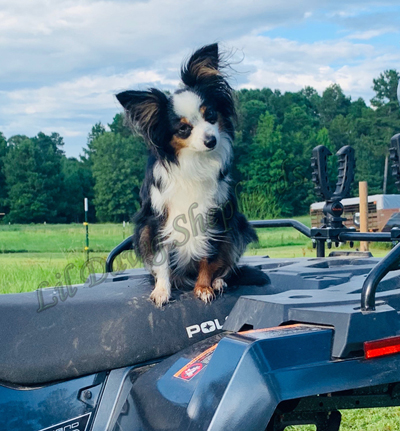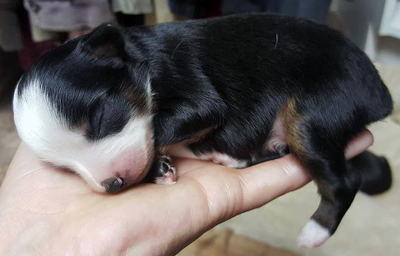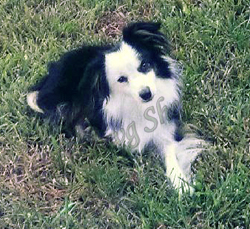 Sire: Sibley's Sysco
Black Tri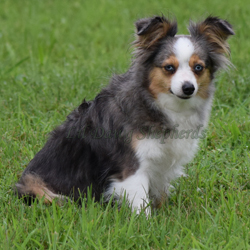 Dam: Josie
Blue Merle