Welcome
Lil Dawg Shepherds, also known as LDS, is the home of Toy and Miniature Australian Shepherds, often referred to as Toy or Mini Aussies. These little dogs are intelligent, versatile, and highly trainable. They are outstanding loyal companions that excel at Herding, Tracking, Scent work, Dock Diving, and Agility events.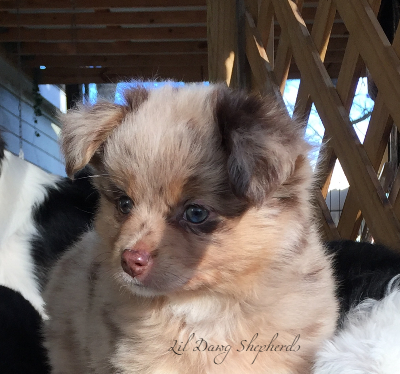 Lil Dawg Shepherds began its journey in April of 2011. While I was at the Vet one day in Albany, Louisiana I saw a lady carrying a tiny black and white puppy. I fell head over heels in love instantly. I had never heard of a Toy Australian Shepherd before that day, I just knew I wanted him! I wasn't in the market for a dog, the lady told me she was headed to the horse sale to sell him. I told her if he didn't sell, please contact me. A week or so later they contacted me, the puppy was still available. I wasn't going to pass him up a second time. I knew in my heart this was my puppy at our first hello. On the drive home, he sat on the center console looking out the windshield like he knew that was his place. He knew I was his human and he had chosen me at our first meeting. I knew his name instantly. "Sysco." My life changed at that moment!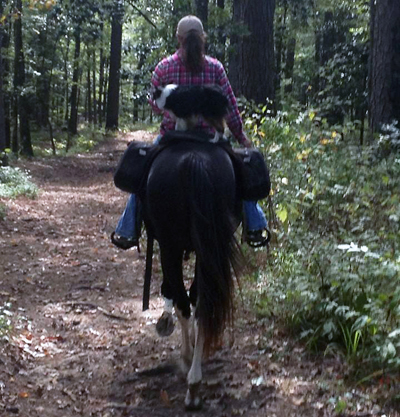 He was so small I thought I could teach him to ride with me on my horse. I did! Together Sysco and I have ridden many miles on horseback.
Life threw us a for a loop when in July 2011 my brother passed away. Everything in my life fell apart and Sysco was literally the tether to my sanity. I don't want to think of where I'd be right now if Sysco hadn't been there for me. So skip ahead a few years to 2014. I had my own house and land in the little town of Pride, Louisiana. I wanted to find another Aussie, one for Sysco to play with. I found the perfect blue merle female in Dallas, Texas. I brought her home in June 2014. I named her Josie. She has the most soul-piercing blue eyes you can imagine! When she had her first litter I began the process of registering them with ASDR (American Stock Dog Registry) and I saw where I could register a kennel name through them. I wanted to do that but I couldn't really think of a good name.

I was talking to Sysco one day, I was telling him about how I missed my brother. He just looked at me like he knew I was sad. I looked at Sysco and said, " You know, you're my special lil dawg". It hit me like a ton of bricks! One of my brother's nicknames was "Lil Dawg", and when I put shepherds at the end I realized that it was my brother's initials, LDS. I can imagine he rolls his eyes every time I tell this story, but I love being able to give my puppies a part of his legacy to take with them forever.

We are located near Bonnerdale, Arkansas. We will drive to meet you with your new puppy. We will meet you at the Little Rock Airport if you want to fly in to pick up your new best friend. We will fly with your puppy in the cabin to your nearest airport. We even have a ground shipper we trust if you would like to have your puppy shipped.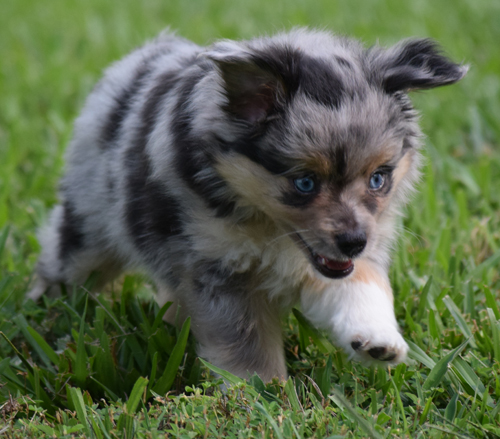 One of our Lil Dawg Shepherd puppies enjoying a romp in the grass.